27
Oct
Top 5 Epsom Salt Beauty Uses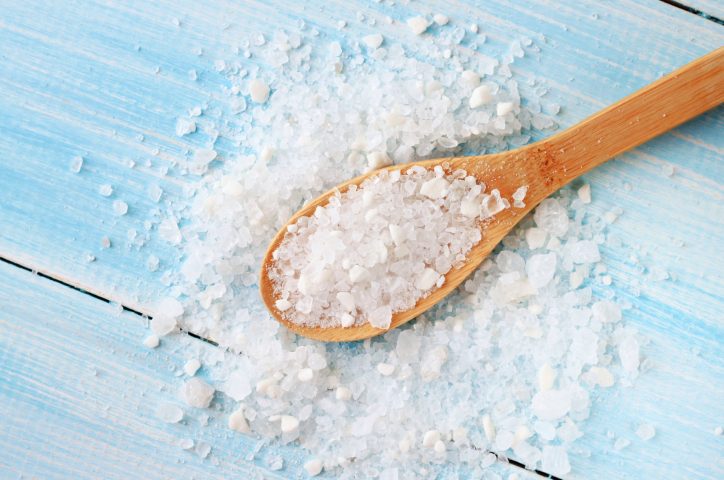 If you're on the hunt for eco-friendly, natural solutions for some of your peskiest beauty problems, you'll love this post!!!
Many people have soaked in a tub filled with Epsom salt to detox, unwind or soothe sore muscles. But there are also plenty of beauty uses for this inexpensive salt.  Epsom salt is a low-cost, natural way to keep yourself feeling healthy and beautiful.
You may have seen it at your local drug store in a milk carton or bag and wondered what it was. Epsom salt is comprised from the minerals magnesium and sulfate. It's a natural exfoliant and anti-inflammation agent – you can use it for treating anything from dry skin, sore muscles, minor wounds and for every day beauty needs.
Top 5 Epsom Salt Beauty Uses
1. Pump Up the Volume
If you have flat, oily hair you must try this out. Use Epsom salt in your conditioner to remove excess oil and built up. Make your own hair volumizer by combining equal parts Epsom salt with your conditioner. Leave in your hair for 20 mins and rinse.  Repeat weekly.
2. Lip Treatment and Plumper
Dry, chapped lips are not attractive. For healthy looking lips, ditch the chemical laden lip balms. Give your pout a deeper and natural treatment using Epsom salt. Just Combine a tablespoons of it with a teaspoon of coconut oil.  Apply to your lips and gently rub it in. The solution helps remove dead skin and will leave your lips looking plump and totally kissable.
3. Sunburn Aid
Ouch! When you have a sun burn, the last thing you want to do is put on some fake aloe-like product or cream.  Epsom salt's natural anti-inflammatory properties make it a wonderful tool for mild sunburn irritation. Grab an empty spray bottle, make a solution of two tablespoons of Epsom with one cup of water and spray on the affected area. Easy and effective.
4. Large Pores
This is by far my favorite Epsom salt beauty uses. If you are like me and struggle with taming your large pores, try giving yourself an Epsom salt facial. It's natural exfoliating properties help give your pores a deep clean. Add 1/2 teaspoon of Epsom salt to your fav cleansing cream. Apply to face, leave for a few mins and rinse with cold water. You'll be left with a squeaky clean complexion.
5. Natural Body Scrub
Winter means one thing…dry skin. Keep your skin soft and smooth by exfoliating weekly.  For a thorough body scrub, combine two cups of Epsom salt with 1/2 cup of coconut oil.  Add a few drops of your favorite essential oils for a complete at-home spa experience.
Shop my favorite Epsom Salt Brand Here! 
Editors Note: This post was originally published in 2014 and has been revamped and updated for accuracy. 
What do you think of these Epsom salt beauty uses? How do you use Epsom salt? Share your tips below!