26
Oct
Cacao Superfood Smoothie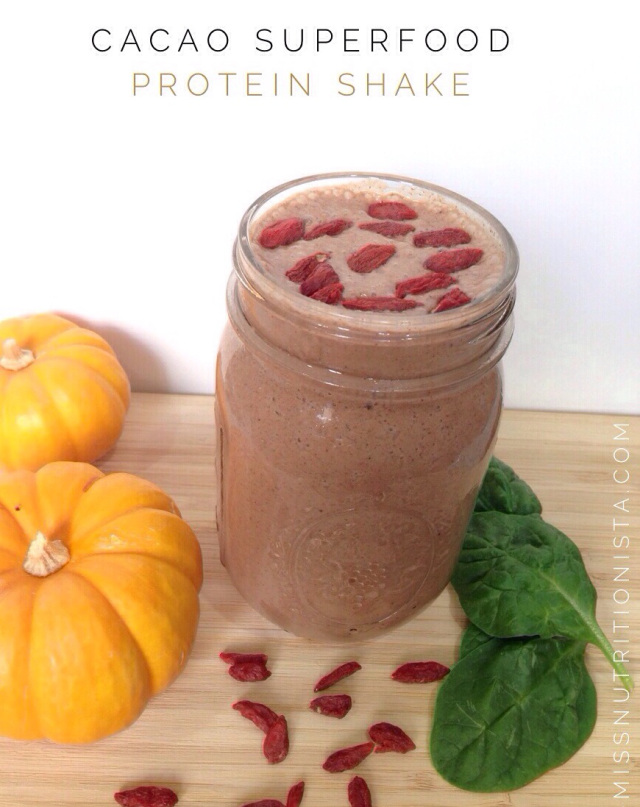 My cacao superfood smoothie is a winner, trust me!  This is my favorite protein smoothie for when the weather starts to get colder and you crave something more grounding to the body.  Now, I'm not saying that it's cold here because frankly summer hasn't left California yet.  It would be nice to post this later on a colder day but, the magnitude of deliciousness in this creamy shake just cannot wait! 
The combination of superfoods, healthy fats and protein makes this a superb breakfast or lunch on the go! So blend one and go, go, go!
There are three superfoods that transform this shake into a nutrient powerhouse. These are raw cacao powder, cacao nibs and goji berry.  Raw cacao powder is a rich source of antioxidants.  It's what chocolate wishes it could be, but it can't.  
Cacao powder is also abundant in magnesium, iron and healthy dietary fiber.
The second superfood in this shake is cacao nibs.  Cacao nibs are basically peeled and crumbled cacao beans.  Like cacao powder, cacao nibs are loaded with free-radical fighting antioxidants and are "nature's chocolate chips."
The final superfood in this shake is goji berry.  Goji berries are really special.  They have roots in Traditional Chinese Medicine dating back 2,000 years.  These berries are truly a superfood because they provide a potent combo of macro-nutrients including carbohydrates, protein and healthy fats.  
The goji berry contains 18 amino acids, antioxidants and carotenoids.  More surprisingly,  goji berries are a strong protein source and contain over 20 vitamins and minerals.
Bam, now that's why I call this a superfood smoothie!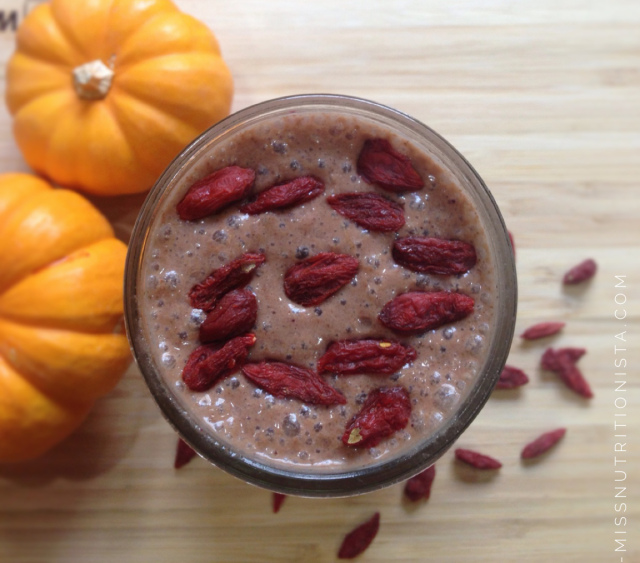 Cacao Superfood Smoothie
rich in: superfoods, protein & antioxidant blend
Ingredients
2 heaping tbsp raw cacao powder
2 tbsp cacao nibs
2 tbsp goji berries
⅓ cup whole raw cashew nut
2-4 medjool dates, pitted
1 ripe banana
1 scoop protein powder of choice ( I used Vega Sport Chocolate)
1 cup water and handful of ice cubes
Directions
Use a high speed blender. Blend ingredients in following order.  Start by whipping the cashews, goji berries, water and dates first.  Next add the powders and blend again until smooth.  Then add the ripe banana and blend until creamy.  Finally, add a couple handfuls of ice and blend until ice is completely broken down into "slushy" texture.  I hope you enjoy my cacao superfood smoothie.
Shop my favorites :  protein powder here! Raw cacao powder , cacao nibs here and goji berries here.