21
Nov
Butternut Squash Salad with Pomegranate and Kale
This Butternut Squash Salad with Pomegranate and Kale is loaded with roasted butternut squash, pecans, pomegranate, and a nutty hemp seed dressing perfect for your Thanksgiving menu.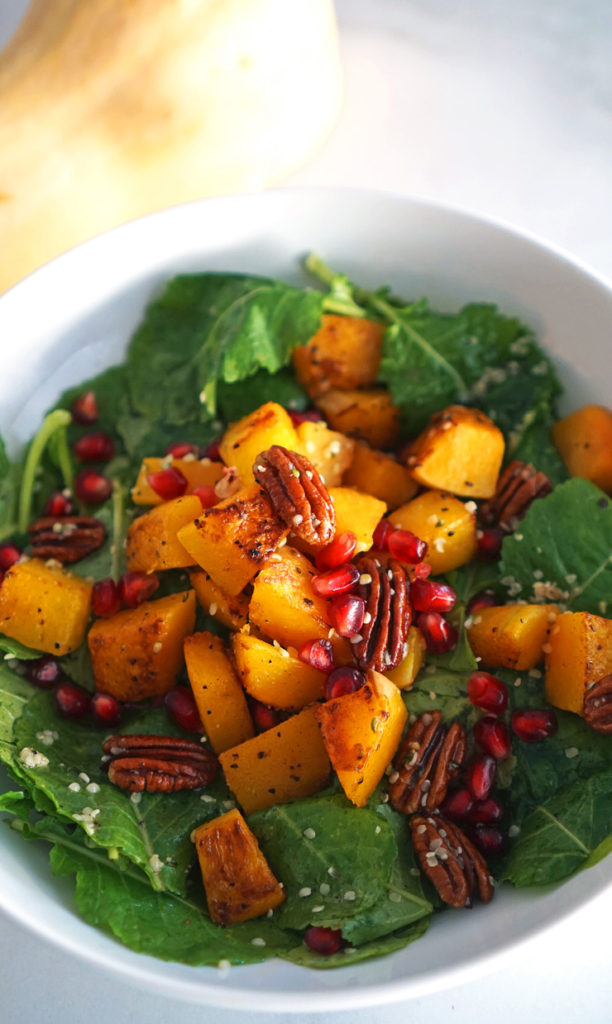 I wanted to drop in before the rush of Thanksgiving and share my favorite autumn superfood salad with you! We all love decedent, scrumptious Thanksgiving sides like buttery mash potatoes, stuffing, gravy and warm pie. But, Thanksgiving is also a great holiday for getting some pretty delicious vegetables like sweet potato, pumpkin, and my very favorite butternut squash.
This butternut squash salad with pomegranate and kale is the perfect salad for your festive table.  It's not only delicious but it's also full of antioxidants and health-boosting nutrients- basically a yummy bowl of superfoods!!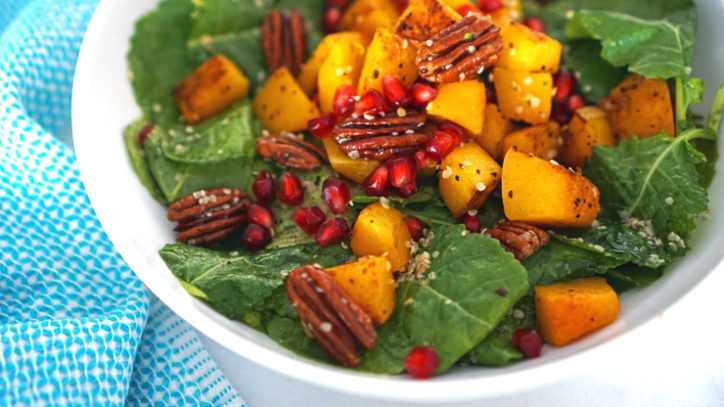 Check Out These Health Benefits
Butternut Squash-  packs a hefty dose of dietary fiber, making it exceptionally heart-friendly. It provides significant amounts of vitamin B6, which are essential for the proper functioning of the nervous… making it vital for stress management. Butternut squash also has lots of potassium which is important for bone health.
Pomegranate- these delicious seeds are so powerful that they contain three times the antioxidant activity of red wine and green tea… for real!!
Kale– contains compounds called glucosinolates which help the body prevent cancer.  Kale is also high in fiber and contains zero fat.  Just one cup of kale has 36 calories and 5 grams of heart-healthy fiber. You will also find nutrients like folate and magnesium in kale along with many important vitamins and minerals.
Pecans – these delicious nuts contain vitamins and minerals including vitamins A, B, and E, folic acid, calcium, magnesium, phosphorus, potassium, and zinc.  Eating just one ounce of pecans provides 10 percent of the Daily Recommended intake of fiber.
Hemp Hearts– are a fantastic source of fatty acids including Omega 3, 6 and GLA in the perfect balance.  Hemp seeds are also the highest protein seed around the are one of the easiest to digest foods compared to other high protein foods.
These are some of the wonderful benefits of this superfood salad.  Now that you know the amazing benefits, you have to make it right? I hope you do!
Would love for you to try this recipe…and when you do, please snap a pic and share it on Instagram using #miss_nutritionista and tag @miss_nutritionista  in your pics so I can find you.  (That guarantees I'll see your pic and give you props by featuring it on my  Instagram Feed! )
P.S. If you liked this recipe, you will also love my Curried Butternut Squash Soup recipe and my Healthy Pumpkin Pie Protein Smoothie recipe.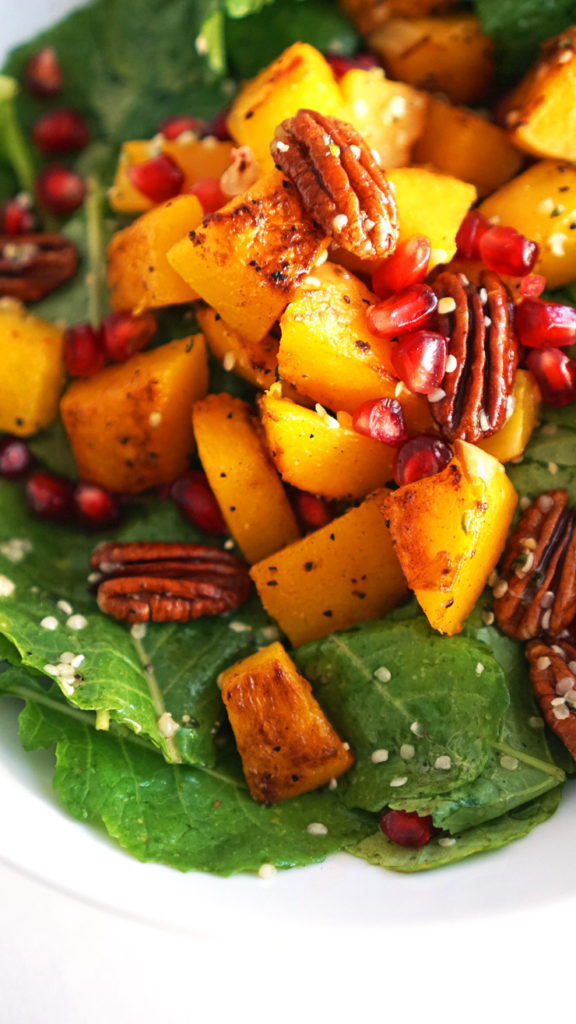 Print
Butternut Squash Salad with Pomegranate and Kale
This Butternut Squash Salad with Pomegranate and Kale is full of superfoods.
Ingredients
SALAD
½ large butternut squash  peeled, seeded, and chopped
2 tbsp avocado oil
Sea salt and black pepper, to taste
4 cups baby Kale
Seeds from half a pomegranate
3 tbsp pecans
1 tbsp Hemp Hearts
DRESSING
2  tbsp avocado oil
2 tbsp lemon juice
1-ounce orange juice
2 tsp organic maple syrup
1/4 tsp cinnamon
Freshly ground black pepper and sea salt to taste
Instructions
Preheat oven to 400F.
Place squash on a lined baking sheet. Drizzle with oil, cinnamon, and salt. Toss to combine. Roast for 25 minutes.
Next, wash, and prep the kale and de-seed the pomegranate.
Assembly the kale, pomegranate, pecans,  and Hemp Hearts in a large salad bowl. Set aside.
Combine all dressing ingredients in a small bowl.  Wisk together until smooth.
Take out baked squash and let it rest for a few minutes. Then add the squash to the salad bowl.
 Drizzle with dressing and toss, toss, toss to get everything nicely coated. Enjoy!
Notes
I love seeing all your recipe recreation! Please use #miss_nutritionista and tag me @miss_nutritionista on Instagram!