10
Sep
Watermelon Goat Cheese Salad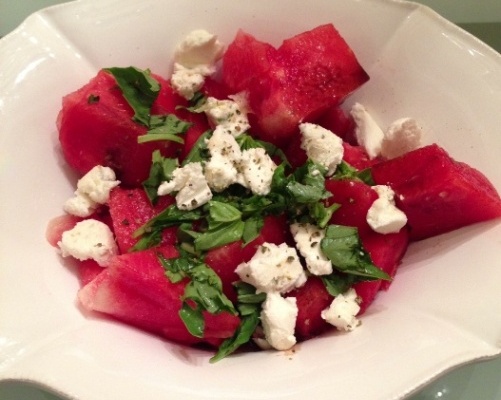 Since the weather has been like 100 degrees here in good ole California this past week, today I decided to make something fun and refreshing for lunch. I don't know about you, but when its scorching hot outside I don't have much of an appetite to eat a huge meal let alone prepare one. So I decided to get a little creative and turn the watermelon I had in the fridge into a salad.  It was light, refreshing and nutritious!  
Although watermelons contain more sugar than other fruits, they are very rich in vitamins and antioxidants.  This iconic summer fruit actually contains twice the amount of lycopene than found in tomatoes.  Lycopene

is an antioxidant that's important for our cardiovascular health. This "heart" friendly fruit also contains vitamin C and A, plays an active role in fighting several forms of cancer and also protects our cells from free radical damage. 
If you're experiencing a heat wave like we are here in Southern California, try this easy recipe and enjoy the last taste of summer!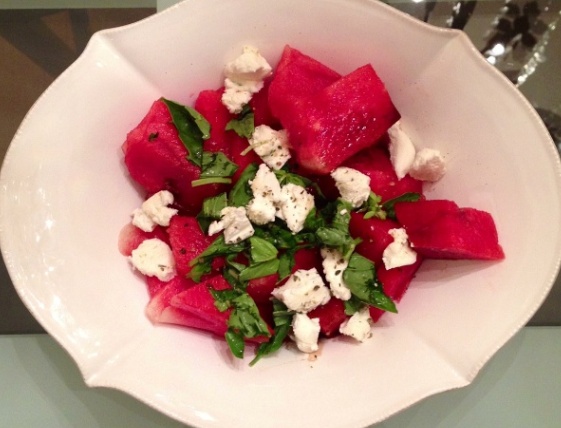 Watermelon Goat Cheese Salad
Makes enough for two or three people
1 medium sized watermelon, cubed (seeds removed)
3 springs of mint, roughly chopped
1 teaspoon balsamic vinegar 
In a bowl combine watermelon and chopped mint. In a separate small bowl, whisk together lemon juice and balsamic vinegar.  Pour over the watermelon.  Add in the goat cheese and mix all of the ingredients.  It's now ready to enjoy! 
What's your fav way to eat watermelon?