21
Jul
Skinny Turkey Stuffed Peppers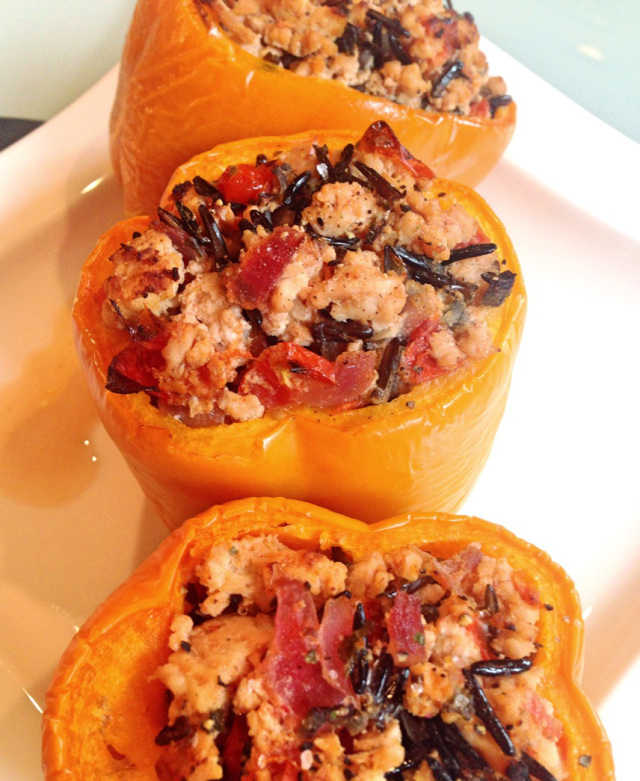 Yum! Stuffed peppers are one of my favorite foods to make for dinner!  They go perfectly with a nice salad on the side and are loaded with mega flavor.  I make these extra guilt-free by avoiding heavy tomato sauces, unhealthy oils and unnecessary dairy/cheese. To bump up the health factor, I ditch ground beef and use extra-lean ground turkey!  This recipe is also Gluten-free because I don't use any grains in the meat mixture.  I only use a 1/2 cup of wild rice for texture.
Tip: Wild rice is actually the "seed" of a marsh grass and not a "grain".   I love it because its high in B vitamins, zinc, potassium and manganese.  Wild rice also contains twice as much protein as brown rice and is relatively low cal!
Ingredients
4 large bell peppers (orange, red or yellow)
1 cup organic veggie broth
1 tbsp coconut oil
1/2 large onion, diced
3 cloves of garlic
1 tsp sea salt
1 lb. organic ground lean turkey
1/2 cup wild rice
1 cup tomatoes, diced
Freshly ground black pepper, cayenne, ground ginger and lemon juice to taste
Instructions
Preheat the oven to 350 degrees F.
Bring a large pot of water to a boil. Prep peppers and boil for 4-5 minutes. Remove from the water and set to dry on paper towel.
Cook the wild rice following box directions or just like regular rice.
Heat the coconut oil in a large nonstick pan over medium heat, adding in onions.  Sauté for 4 minutes until the onion begins to soften, add in garlic.  Next, stir in the ground turkey, veggie broth, diced tomatoes and other seasonings.  Cook until turkey is slightly browned.
Remove the pan from heat.   Place the peppers upright in the baking dish and spoon the meat mixture into the center of each. Bake for 30 mins.
Serve with a fresh squeeze of lemon juice and parsley as garnish.
   How do you make stuffed peppers? Have you tried using ground turkey?