7
Dec
Roasted Chickpeas with Turmeric
Roasted chickpeas are one of my favorite snacks to make at home.  Not only are chickpeas loaded with plant-based protein, but they are actually an ideal food for weight loss.
Chickpeas (garbanzo beans) rank very low on the glycemic index.  They have a glycemic index ranking of 33! That's way lower than kidney beans or other beans in general.
Chickpeas could also help you eat less.  A recent study found that participants were more satisfaction with their diet when garbanzo beans were included, and they consumed fewer processed foods.  Additionally, the dietary fiber in garbanzo beans helps keep blood sugar low and discourages the body from storing fat…yes!!
The whole family will love these because they are salty, crunchy and just delicious. Every time I make a batch of my roasted chickpeas with turmeric, the entire bowl is empty in a few minutes. No joke!
Another great thing about this simple snack is that you can use any of your favorite herbs and spices.  The sky is the limit.  Make them salty, make them spicy, or give them a Mediterranean twist.
Side note- I have a slight obsession with turmeric powder. Check out the Best edamame with turmeric and cayenne recipe.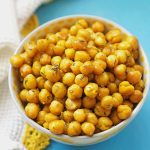 Roasted Chickpeas Recipe
Ingredients
1

15-ounce

can garbanzo beans

2

tbsp

coconut oil

1

tsp

turmeric powder

sea salt & pepper to taste

1

tsp

thyme
Instructions
Start by preheating oven to 375 F.

Use organic garbanzo beans if possible. Drain the beans in a strainer and rinse with water for a few minutes to clean off the soapy film on the beans.


In a bowl, place your chickpeas. Take a paper towel and gently wipe the beans to remove their thin top coat. You will see they come off easily.


Next, drizzle in the oil and season the beans with the sea salt and turmeric. Give a good toss and spread beans on a baking sheet. Do not overcrowd the beans.

Roast for 30 minutes until the beans are a deep golden brown and crunchy. Make sure they do not burn.

Lightly season with another dash of sea salt, black pepper and thyme.
Recipe Notes
Eat right away.  Yum!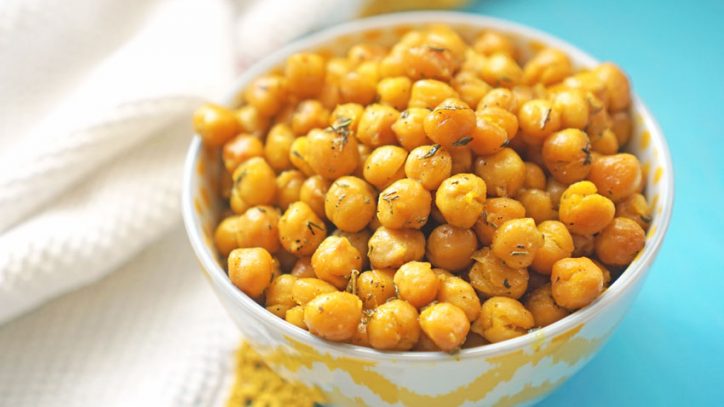 ARE YOU THE TYPE OF PERSON THAT NEEDS A PLAN AND WEEKLY ACCOUNTABLY TO GET HEALTHY & LOSE WEIGHT? MY 1-MONTH COACHING PACKAGE MAY BE RIGHT FOR YOU!  CLICK HERE!