20
Jan
Loaded Avocado Toast 5 Ways!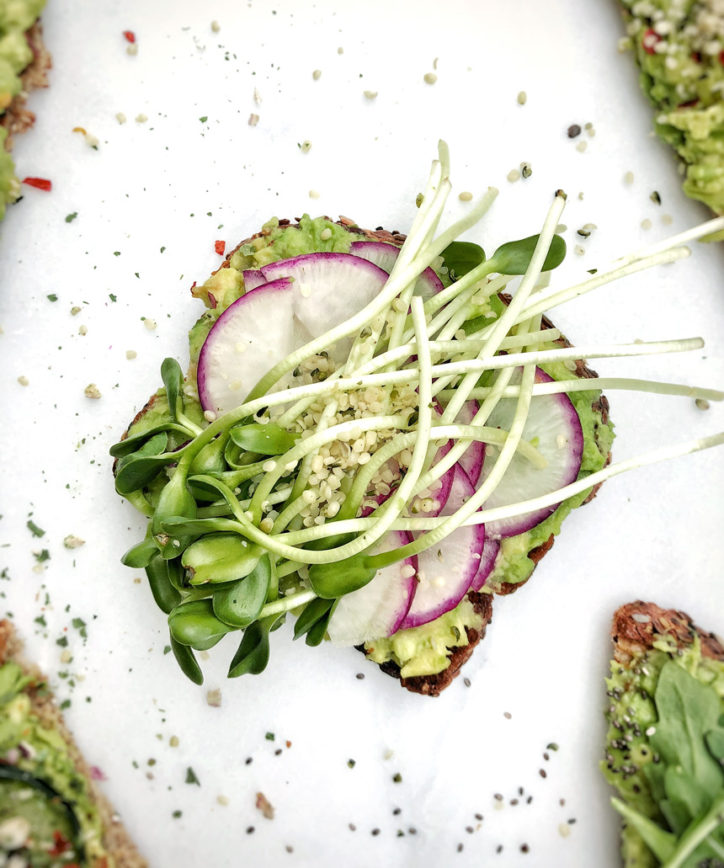 To kick off 2018 on the right foot, I'm sharing some of my favorite detox and sugar-free recipes!  Let's get started with my all-time favorite go-to breaky … Loaded Avocado Toast.  Avocado toast is so delicious you can have it for breakfast, a snack or even lunch! Here are my favorite combos, loaded avocado toast 5 ways!
These recipes start with a base of creamy avocado and require just a few ingredients. Easy and you can get as creative as you'd like.  Many times, I'll add a poached egg, a soft boiled egg or some good ol' scrambled egg on top for extra protein and other times I keep it simple and green. Totally up to you and how hungry you are.
As you know, avocados are one of the healthiest superfoods on the planet. Avocados are full of antioxidants, important trace minerals and vitamins such as vitamin A, B, C and E to name a few.
These delicious fruits (yup, avocado is considered a fruit), are also one of the most fiber-rich foods available. They contain soluble fiber which helps stabilize blood sugar levels and are a fat burner making them perfect for weight loss.
And… did you know that avocados also contain a good amount of protein?  According to this site, avocados have the highest protein and lowest sugar content of any fruit.
Now, let's get to the recipes, shall we?  I like to start by toasting an organic, thin slice of multigrain, multi-seed bread such as Dave's Killer Bread.  Then, depending on how much time I have, I'll add my favorite ingredients.
My boy loves these toasts as well, so its great for the whole family.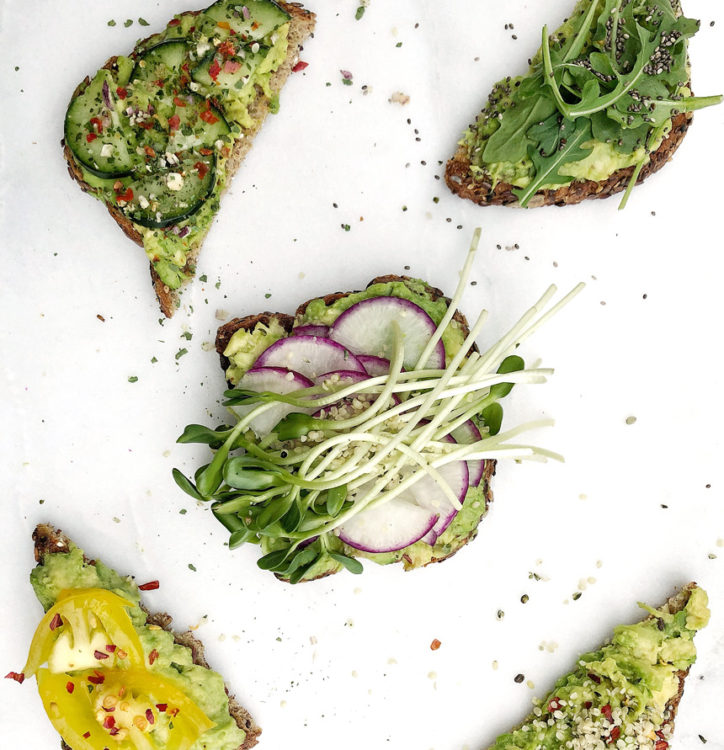 1. Avocado Toast with Cucumber + Dried Herbs
Toast a piece of bread. Mash some avo and spread on the bread.  Add sliced cucumber, sea salt, and dried herbs and done!
Benefits:  Cucumbers are extremely hydrating and amazing for your skin.  They help reduce breakouts and acne because they are high in pantothenic acid or vitamin B-5. No wonder, they are in almost every spa treatment or facial cream!! Duh!
2. Avocado Toast with Tomatoes + Chili Flakes
Toast a piece of bread. Mash and spread your avocado, add sliced tomatoes, sea salt, and red chili flakes.
Benefits:  Tomatoes contain vitamin A which helps improve vision and prevents night-blindness and macular degeneration.  Tomatoes are also a major dietary source of the antioxidant lycopene, which has been linked to reducing the risk of heart disease and cancer.
3. Avocado Toast with Lemon Juice + Hemp Seed
Okay, girl toast that bread and spread that avocado. Sprinkle a hefty amount of hemp seeds, drizzle some olive oil, squeeze lemon juice, add red chili flakes.
Benefits: I often add hemp seeds to my avocado toast because hemp seeds are a great source of high-quality protein.  Also, the gamma-linolenic acid found in hemp seeds have been linked with reduced inflammation and decreasing the risk of heart disease.
4.  Avocado Toast with Arugula + Chia Seeds
Grab your perfectly toasted bread, spread the avo and dress with fresh arugula. Squeeze lemon juice, sea salt and top off with a tbsp of chia seeds.
Benefits: Arugula is another superfood babes. It is full of vitamin K, which is good for your heart, bones, and skin. The chia seeds are an excellent source of omega-3 fatty acids, antioxidants, and they provide you with extra fiber, iron, and calcium. These are all so important for a healthy body! Iron helps you feel energized and we all need as much calcium as we can get for strong bones.
5.  Avocado Toast with Radish + Micro Greens (See Below).
Print
 Avocado Toast with Radish + Micro Greens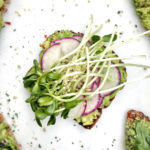 Author:
Prep Time:

5 Mins

Cook Time:

1 Minute

Total Time:

6 minutes

Category:

Breakfast
Ingredients
Thin Slice of Bread
Ripe avocado
Fresh Radish ( sliced thinly)
Hemp Seeds
Sunflower Micro Greens
Sea Salt + Black Pepper
Lemon Juice
Instructions
Toast a piece of bread. Mash and spread your avocado, add sliced radish, sea salt, pepper, and hemp seeds.  Top off with Sunflower micro greens.  Enjoy!
Notes
I like to use Dave's Killer Bread (Thin Slice)
Add a soft boiled egg for extra protein
Benefits: Radishes are high in fiber which can help prevent constipation and promote a healthy digestive tract. If you want a flat tummy, your goal should be to keep constipation away.  Radishes also give you a great dose of calcium and potassium, which is essential to healthy blood pressure and fluid balance.
Sunflower micro greens are a powerhouse of vitamins, enzymes, and antioxidants.  Sunflower micro greens contain a good dose of healthy fats such as polyunsaturated and monounsaturated fat, keeping your cholesterol levels in check and adding to a healthy glow on your skin.
I hope you LOVE these Loaded Avocado Toast combos as much as l do because they are…
Delicious
A super healthy way to start the day
Superfood combos great for skin + hair + nails
Nutrient-dense bites of goodness
Satisfying
Fat Burning + yummy!
While on the topic of healthy, detoxifying, sugar-free recipes, check out my Butternut Squash Salad with Pomegranate, Curried Butternut Squash Soup , and Roasted Chickpeas with Turmeric and Blueberry and Oatmeal Smoothie .
Hey babe, If you try any of these avocado toast recipes, let me know! Leave a comment, and don't forget to tag @miss_nutritionista and hashtag your photo #missnutritionista on Instagram.