16
Nov
Skinny Version of Lemon Butter Chicken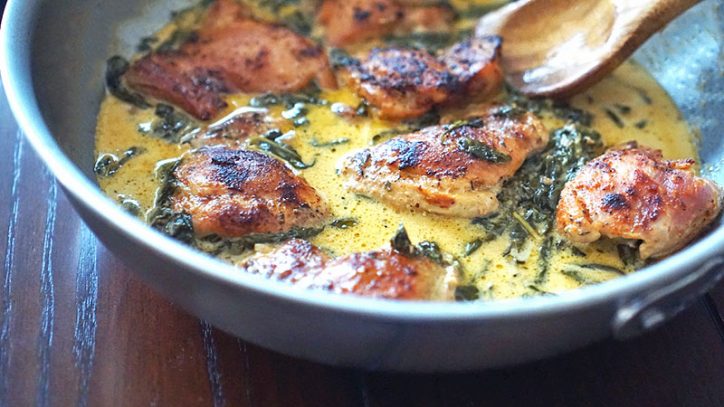 A skinny version of Lemon Butter Chicken?
Oh Yes!!!!  So this happened by accident.  Don't the best recipes always do?  Even as a nutrition coach, I don't always know what to cook.  Anyone else with me?
Many times, I like to get to the grocery store and start with a blank canvas.  I'll go to the produce isle and see which vegetable I want to buy and what kind of protein to pair it with.
That's how I discovered this dish.  I picked up some fresh spinach which is extremely nutritious yet so boring at the same time.  To boost flavor, I wanted to pair it with some kind of creamy, lemony, chicken dish.  After a quick google search, I found this gem of a recipe for Lemon Butter Chicken.
The chicken in this dish is crisp, tender and flavorful because it is seasoned with paprika.  The addition of the spinach gives it a major nutrient boost.  Spinach is an excellent source of vitamin C, vitamin A, vitamin E, iron and calcium.  All good stuff for keeping your skin healthy and beautiful!
But as great as spinach is, the real star of this lemon butter chicken is the sauce.  It's incredible, guys!
Like so good, you may find yourself dipping some bread into it or pouring it into a mug and sipping it straight. No joke.
And although, the original recipe is perfection, I've created this "skinny" version just for you.  After all, this is a nutrition blog, right!
I replaced the heavy cream called for in the recipe and used non-fat, plain greek yogurt instead.  If you want to avoid dairy completely, you can try coconut milk instead.  Coconut milk pairs amazingly well with chicken.  Now you can make this dish without the guilt and extra calories.
Skinny Version of Lemon Butter Chicken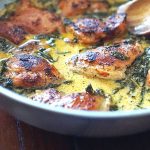 Lemon Butter Chicken
Ingredients
8

chicken thighs or breast

juice of 1 lemon

1

tbsp

smoked paprika pepper

2

tbsp

unsalted butter

4

clove

garlic, minced

1/4

cup

grated Parmesan

1

tsp

dried thyme

3

cups

baby spinach

sea salt and black pepper, to taste

1

cup

chicken broth, low sodium

1/2

cup

plain greek yogurt, nonfat
Instructions
Preheat oven to 400 degrees F.

Season chicken with salt, pepper and paprika to taste.


Next, melt 1 tablespoons butter in a large, oven-safe skillet over medium heat.

Brown the chicken skin-side down until golden and crispy, about 3 minutes. Do the same on the other side.

Remove chicken from skillet and set aside in another dish. Drain the excess fat from skillet.

Return skillet back to stove and melt remaining tablespoon of butter. Add garlic, and cook until fragrant, about 2 minutes.

Stir in chicken broth, plain greek yogurt, Parmesan cheese, lemon juice and dried thyme. Bring the sauce to a boil; reduce heat, stir in spinach, and simmer until the spinach has wilted, about 3 minutes.

Return chicken back to the skillet. Place into oven and roast until completely cooked through about 25-30 minutes.