3
Apr
5 Tips on How to Stay Healthy On Vacation
How do you stay healthy on vacation?  The winter months are gone and you are looking forward to shedding those heavy coats, breaking away for a few days and having some fun.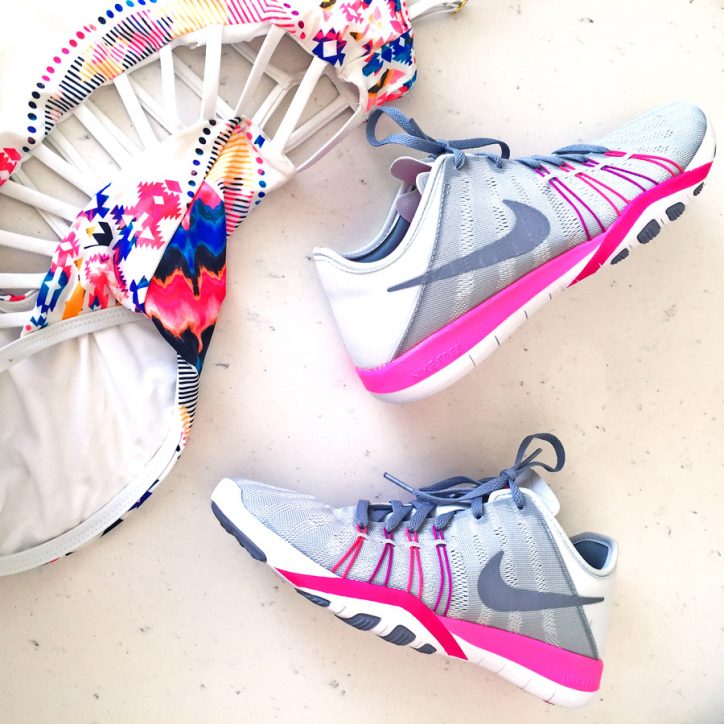 Most people do a good job of prepping for their trip by hitting the gym, increasing exercise and cleaning up their diets. They want to look and feel great about themselves whether they will be exploring a new city or taking beach selfies in a new bikini.
However, as soon as its vacation time all of those healthy habits are out the door!  We've all had those vacations where we return home feeling… a little less than refreshed.  Or more like we need another vacation just to recover from the current vacation.  That's all fine once in a while or if you are 18 years old.  But the truth is, the older you get the more your choices impact your health in the long run.
Also, the choices you make while on vacation can impact how you feel during your trip and after you are back home.
I really believe that we should take our healthy habits with us everywhere.  Ditch the fake diets and make it a lifestyle change.  Sure, we could place our health on "pause" when we are on vacation, but the more we do this, the more it will negatively affect our weight, digestion and energy.
The good news is feeling healthy during and after vacation is absolutely possible.  By making some smart choices and following my tips below, you can stay healthy on vacation and come back home refreshed…not begging for another day off from work.
Tip # 1: Move Your Body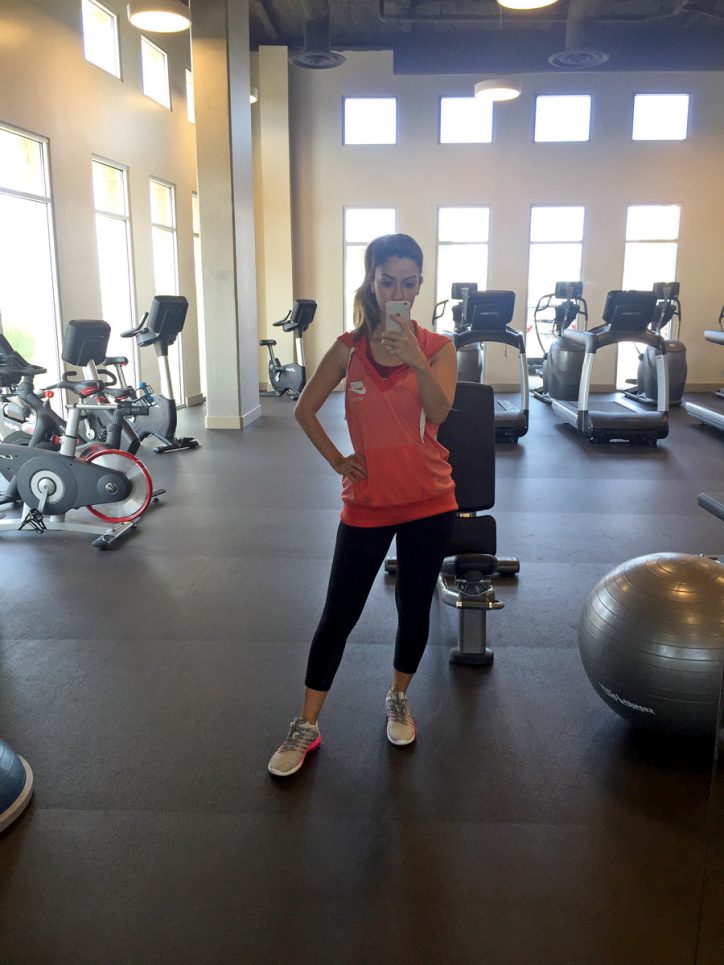 This is a great way to stay healthy on vacation.  I always plan some kind of exercise for each day of my trip.  I go to the hotels website and check out the scene.  You know, gym, spa, pool, hiking, beach, exploring the town, etc.  If I am excited about the gym, I will make it a point to squeeze in a short- 30 minute workout right before heading down for breakfast each AM.
A quick gym sesh will make a huge difference on your digestion and energy levels for the day. Also, when you just spent 30 mins at the gym, your endorphins are popping and you will be more inclined to make a healthy choice at breakfast.
And… speaking of breakfast, after a good workout I never-ever-ever have a shitty- carb- loaded breakfast.  If you do that, basically your entire workout was a big ol' waste of a time.  I always choose a protein + healthy fat after a workout.  My choices are very simple, some kind of veggie omelet with avocado on top.  The eggs are protein & the avocado is a healthy fat + fiber, a combo that will keep me full for a long time.
I also take my own protein powder with me when I travel.  Depending on where you stay, you may be able to request a nice smoothie for breakfast at the hotel but it's always best to be on the safe side and take your own.  My current favorite protein powder at the moment is Orgain Organic Plant Based Protein Powder.
Tip # 2 : Choose Alcohol Wisely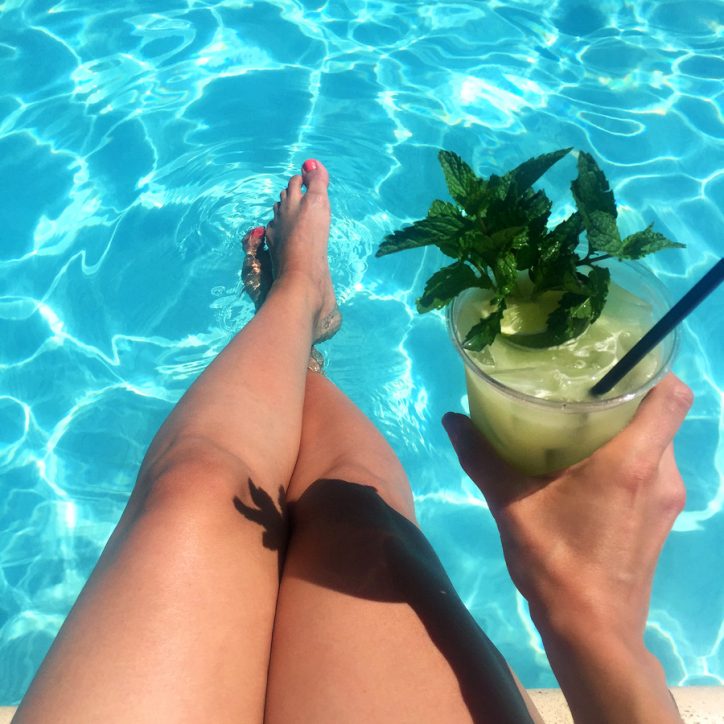 Okay, I'm not one of those nutritionists who says no alcohol what-so-ever! You gotta live a little, especially on vacay.  But I do have my rules about what type of liquor and how its made.  If you opt for those mixed Pina Coladas, or other fruity, blended alcoholic beverages just beware that you will start to experience the BLOAT.  Sugar and alcohol have a very bloating effect on the body.
So please do yourself a favor and edit out the majority of those sugary mixes. Instead, ask for muddled fresh berries or mint in your drink.  If I'm feeling a mixed drink, I like to order a skinny margarita or request tequila on the rocks with sparking water, splash of juice, muddled mint and squeeze of lime.  You also can't go wrong with a classy glass of Rose or champagne.
If I'm at an outdoor event, I always mix my wine with some ice and sparking water.  It's just a perfect way of keeping it low-cal and hydrating at the same time.
And always choose clear alcohol because it has fewer congeners, a compound that taxes the liver and causes more severe hangovers.  As a final note, keep track of how many glasses of alcohol you have and make it a rule to drink 1 tall glass of water in-between drinks.
Tips # 3: Be Picky About Food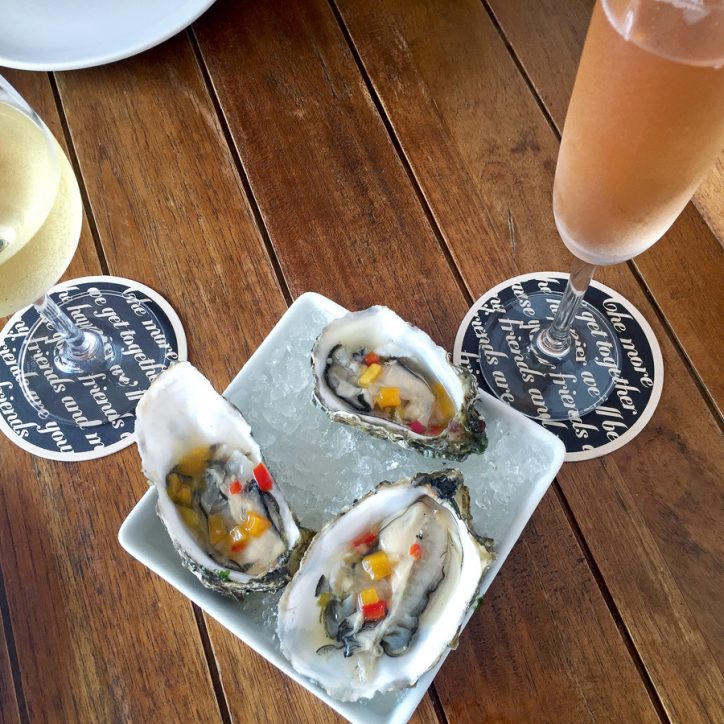 Being extremely picky about your food choices is a wonderful way to stay healthy on vacation.  Ask yourself, is this going to be the most delicious, bite of food you will have all day?  Did you eat any vegetables at your last meal?  Did you binge on the bread and butter at the table?  Are you craving pasta?  Or a big steak dinner with all of the trimmings?  If the answer is yes, skip the dessert or alcohol honey!  What I'm trying to get at here is to always be picked about your food combo, portions and nutrients.
If it sounds amazing on the menu, then plan around it.  Include it in the big picture of what your meal is going to be like.  You want the pasta, then only eat half and share the rest.  Order a side salad.  Skip the dessert.  You have to balance your diet like a checkbook. Although, this sounds old school, it works!!!  It's all about making conscious choices and balancing out the entire meal.
Tip #4: Say no to plane food
Don't be like those people who binge on junk food as soon as they hop on a airplane. Start your trip off right by skipping those overly processed, full of saturated fat (bad fat) plane foods and sugary snacks.  If your flight is long, bring travel friendly food with you.  Some ideas include, good quality protein bars, energy bites, raw nuts, zippy of raw fruit and packets of almond butter, hummus and veggies.  Bottled water for protein shakes and even boiled eggs would work too.
Tip # 5: Take your supplements
Taking your daily supplements with you is also a very good way to stay healthy on vacation.  I always take my DigestZyme digestive enzymes along for the trip and try not to skip a beat about taking them regularly.  As good as you try to be with your diet, things happen and a good digestive enzyme can help aid digestion and reduce those awful feelings of fullness and indigestion.
I also take my probiotics with me to ensure I keep a healthy gut flora, reduce bloating and gassiness.  I usually pack a potent 5-Day Max Care Probiotic to be on the safe side.  Another supplement I'm known to take with me is my trusty Natural Calm Magnesium Anti Stress Powder , this ensures a great nights sleep and great bowl movements in the AM.
Oh, and if you get an upset stomach, ask for mint tea.  This does the trick when I'm feeling too full or have an upset stomach.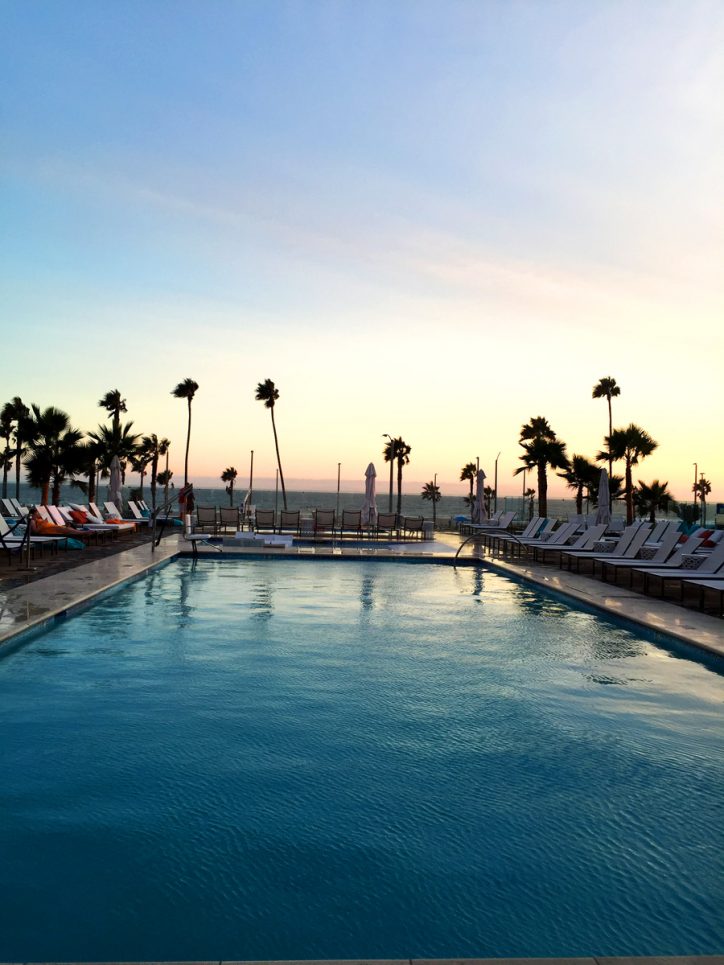 P.S. For more tips on how to stay healthy on vacay, check out this post on  MY TOP 4 TRAVEL MUST-HAVES.  Getting ready for a big trip?? Contact me if you are struggling with your health goals.  I'd love to help you look and feel amazing for your next trip.
How do you stay healthy on vacation?