17
Feb
Healthy Paleo Chicken Soup Recipe
How comforting and cozy does a warm bowl of homemade chicken soup sound ?  With zucchini, tomatoes, mushroom and some delicious herbs, this Healthy Paleo Chicken Soup will warm your soul and boost your immune-system if you are feeling a little cold coming on.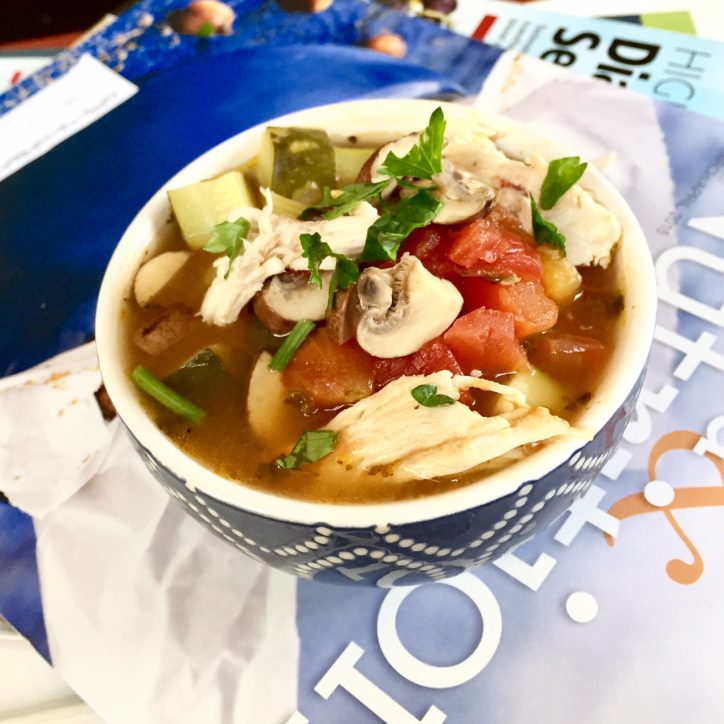 Make this for lunch or dinner now especially since the weather is chilly and if the forecast is predicting a weekend of gloomy rain as we will be having here in Southern Calif.
Nutritionally speaking, eating warming foods is so important during the colder months.  You must eat with the seasons.  Colder foods during the hot summer months and warming foods during the cold winter months.  If you eat this way, your body will thank you with better health!
This soup is especially wonderful during winter because it is easy on your digestive system since all of the ingredients are chopped and in a liquid soup base.  Also, your immune system will love all of the health boosting ingredients in this recipe.
For more healthy recipes, check out this Skinny Turkey Stuffed Peppers recipe and if you love wings you must try this lighter version of the Best Hot Wings With Sriracha !!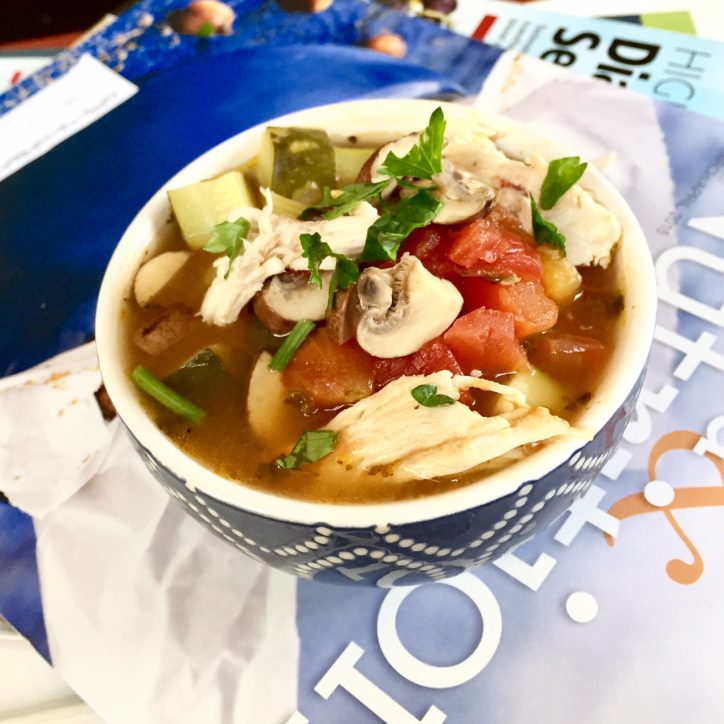 Healthy Paleo Chicken Soup
A delicious, immune-boosting Paleo Chicken Soup recipe that the entire family will love!
Ingredients
1/2

heaping cup diced yellow onion

2

celery sticks,

diced

1

carrot,

diced

2

medium tomatoes,

diced

2

garlic cloves,

minced

3

small chicken breast

( organic chicken if possible)

6

cups chicken broth

( low-sodium and organic)

2

zucchini,

diced

1/2

cup raw mushroom,

diced

3

tsp. dried oregano

( if you have fresh, even better)

1

pinch

red chili flakes

pinch of

sea salt, black pepper

to personal taste

2

bay

leaves

2

tbsp

olive oil

extra virgin
Instructions
Place a large soup pot over medium heat and add in the onions, celery, carrots, garlic and red pepper flakes, oregano and the other seasonings with the olive oil.

Cook for 5 minutes or until vegetables "sweat" and onions are translucent.


Now place the chicken breast, zucchini , tomato, mushroom, and bay leaf. After this step, its time to pour in the liquid ingredients- the broth and water.

Now, cover the pot with lid. Bring to a boil. Once the soup begins to boil, lower heat to a steady simmer and cook for 25 minutes.

After 25 minutes, remove the chicken breast from the pot.


Let is cool for a few minutes and with two forks begin to pull the chicken apart into small strips.


Place the shredded chicken back into the soup. Reheat the soup for a few minutes and begin to plate.

Serve with fresh cilantro garnish and toasted bread of choice.