2
Nov
Curried Butternut Squash Soup Recipe

This Curried Butternut Squash Soup Recipe is so creamy and tasty. It is vegan, cleansing, and full of vitamin C!
Fall weather calls for warming, detoxifying and comforting dishes using the season's most popular vegetable…butternut squash.  Once you try this curried butternut squash soup, it will become heavily on rotation in your household. 
You might even want to include this soup in your Thankgsgive menu? Just saying… it's that good.  It pairs very well with traditional Thanksgiving fare and will look beautiful on your table spread.
If you are into meal prep, curried butternut squash soup is another great make-ahead option. In my opinion, it tastes even better the next day as the curry blends with the other flavors.  Keeps well in the fridge for about three to four days and freezer for one month.
The other best part of this recipe is that it is extremely easy to make.  Like its fool-proof and who doesn't love fool-proof recipes?  
Benefits of Butternut Squash
Now let's talk health benefits… cause this is a health blog after all.  The nutrients of butternut squash deserve an entire blog post but here are some quick benefits.  Butternut squash has over 4x the recommended daily value of immune-boosting vitamin A in just one serving and over half the recommended intake of vitamin C.  It is also high in vitamin E making it ideal for the cold and flu season.  
Butternut squash is rich in minerals like manganese, potassium, and magnesium.   My version of Curried butternut squash soup also has inflammatory ingredients.  The mild yellow curry in here makes this dish savory and extremely healthy.  
Curry is not a single spice, in fact, it is a mixture of some of the worlds healthiest spices combined into one.  The most common ingredients in curry include cayenne pepper, turmeric, fenugreek, coriander, cinnamon, and ginger.  
As you can tell all of these spices are known to have amazing health benefits including blood sugar control, inflammation reduction and also major detoxification properties.  
This curried butternut squash soup combined with fresh ginger make this soup medicinal and so so therapeutic!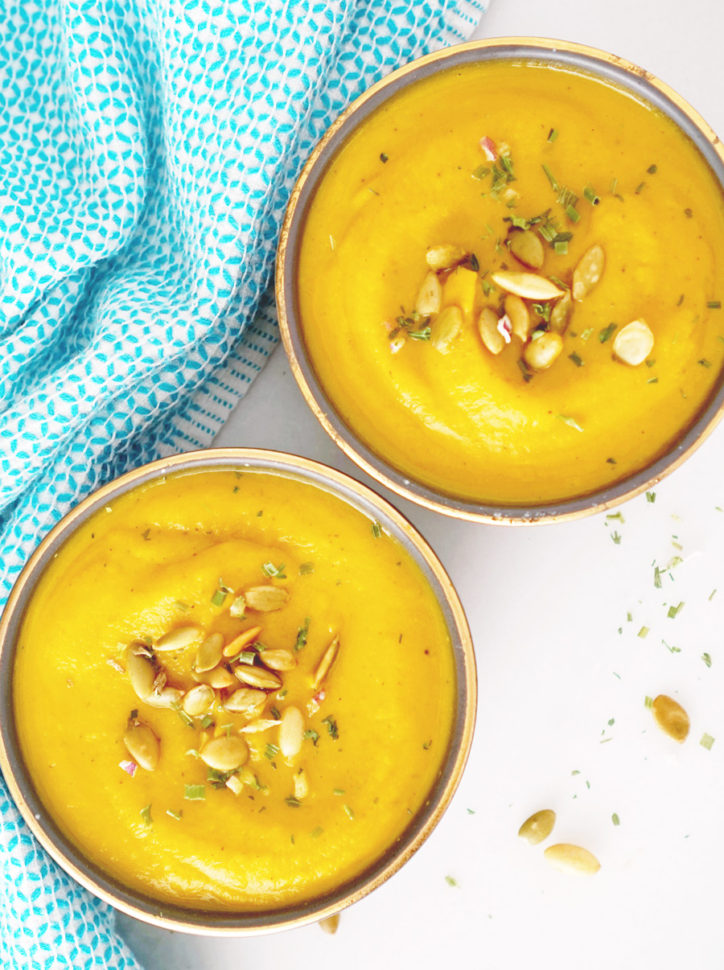 Print
Curried Butternut Squash Soup Recipe
My version of Curried Butternut Squash Soup is savory, cleansing, and delicious!  Very easy to make and perfect for gently detoxing in the colder months.
Ingredients
1 large butternut squash, cut in half, remove seeds and cube
1 large green apple
1 tbsp coconut oil, ( you may also use avocado oil),
1 medium yellow onion
1 tsp salt and pepper (or to taste)
2 garlic cloves, minced
1/2  inch fresh ginger, peeled and minced (or use ground ginger)
1 tbsp curry powder
dash of nutmeg
2 cups of vegetable broth
1 can ( 14 0z ), light coconut milk
Instructions
Start by heating a large pot over medium heat.
Add in the oil, onion, and garlic.  Saute until fragrant, stirring frequently.
Cube the apples and butternut squash and add both to the pot.  Season with salt, pepper, ginger, curry powder, and nutmeg.
Cover and cook for 5 minutes, stirring frequently.
Add vegetable broth and coconut milk.
Bring to a low boil over medium heat and then reduce heat to low.  Simmer for about 15 minutes.  Add more liquid if needed.
Transfer to a blender or use an immersion blender, and purée on high until smooth and creamy.
Next, return soup back to the pot.
Adjust seasonings to taste.  Mix and cook for a few minutes longer.
Enjoy with garnishes of choice such as croutons or pumpkin seeds.
Delicious!!! If you try this recipe, let me know what you think! Leave a comment below and please don't forget to snap a pic and tag  #miss_nutritionista on Instagram.  I'd love to see your dish and feature it on my feed!
Related: Loved this curried butternut squash soup recipe?  On a soup kick?  I got you covered.  Also, be sure to check out my Healthy Paleo Chicken Soup Recipe and my Immune Boosting Tomato Soup
Do you have a favorite fall soup?  Share your recipe below!