22
Sep
Blueberry and Oatmeal Smoothie
Blueberry and Oatmeal Smoothie for the win! You will love this simple and easy option for mornings when you want a filling breakfast but need to be out the door like asap!  Get the recipe below!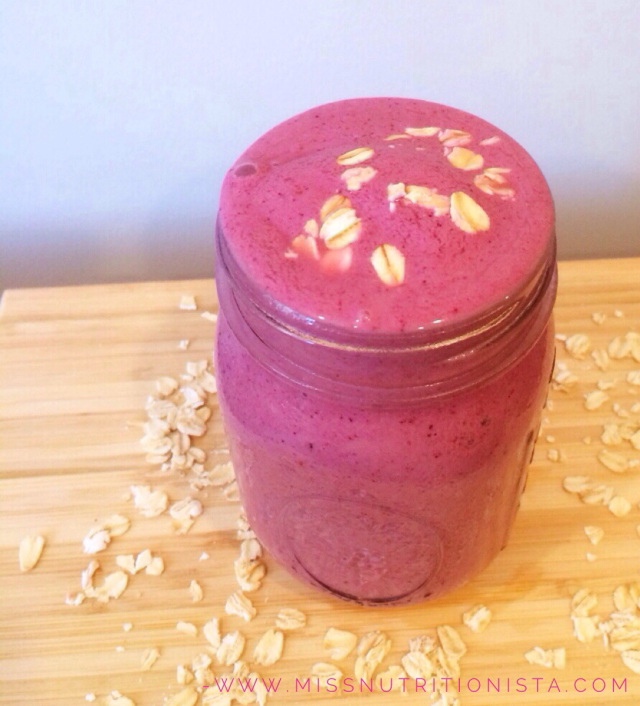 Antioxidants are your friend for youthful skin and an energized body!  Max out on this yummy smoothie first thing in the morning for some serious energy and glowing skin all day long.  Its easy to make too, just toss your ingredients in a high speed blender and blend away!
The beautifying ingredients in here are oatmeal and blueberries.  Did you know that you can throw oatmeal into a smoothie?  Just a 1/2 cup of dry rolled oats has 5 grams of protein and about 4 grams of belly friendly dietary fiber.  
Oatmeal also help improve insulin sensitivity, relieve constipation, lower cholesterol levels and even boost energy according to well-beingsecrets.com.  The rolled oats used here give this smoothie a nice creamy texture and keep you full until lunch. Blueberries are a super food and loaded with antioxidants like vitamin C.  They also boost brain function and mental clarity.  Hence, why I like to drink this first thing in the morning!
Now, let's get straight to the yummy ingredients.
Blueberry and Oatmeal Smoothie 
1 cup fresh water

2 tbsp organic greek yogurt

1/2 cup fresh (or frozen) blueberries

3 tbsp raw rolled oats

1/2 cup fresh spinach or kale

1 tsp honey or stevia

few ice cubes

Optional:  1 tbsp Maca powder (My favorite brand) 
Directions
Blend all ingredients together in a high speed blender until smooth and creamy.  Add more ice if you prefer it colder. 
If you like this blueberry and oatmeal smoothie, you will love this recipe too:  Oats with Antioxidant Rich Jam